Early Bridgeview Area Eduction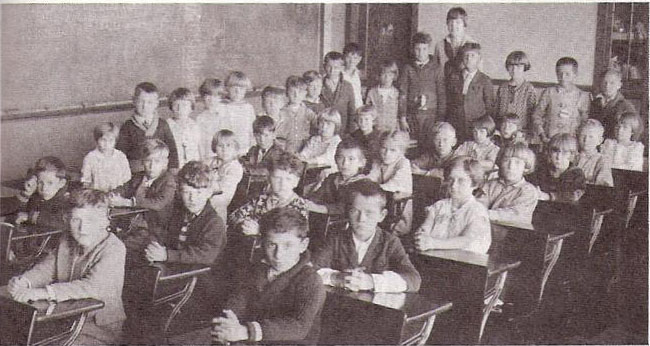 One of the earliest schoolhouses in the pre-Bridgeview/Justice areas stood on the north side of Archer Road just east of Kean Avenue. It was a one-room wooden building built about 1860. Some of farmer Kopping's children (from 76th Street and Roberts Road) had gone to school there by horse and buggy. The school was used until about 1895 when a new one-room structure was erected at 8200 West on the south side of 79th Street. It was used for grades 1-8 until approximately 1909 when a new one-room school was built to replace it.
The old school was purchased by August Belke and had it moved to his property on the north side of 79th Street, one block west of Harlem Avenue. For several winters around the year 1910, a man from the Katt farm on Roberts Road would go to the school in the morning to start a fire in the stove, so the children could enter a warm schoolroom.
On Labor Day evening 1923, a fire of unknown origin destroyed the school. Thereafter, classes were held in the Justice Village Hall for about 2 years until a new brick school building was constructed on Cork Avenue at 8000 south. Bridgeview area students were then transported to school because of greater traveling distance. Private automobiles bused the students until 1932, when a Model T Ford bus was purchased.
Bridgeview's Spiritual Life
In very olden times, man found God where he happened to be. Perhaps it was in a canoe, at a campsite or on a vast plain. Man has seemingly had a universal need to seek out something or someone bigger and wiser than himself. And though his conception of the "Something or Someone" may change with time, the need seems to remain ever with him.
It is said that the pioneering families of this area considered the Christian Sabbath a day of rest from the trials of carving a new life in a vastly untamed wilderness. Essentially, it was a family day – a day of togetherness – with father reading from the large family Bible, as mother and children sat in silent attention.
As the Chicago area developed, families living out here would often devote their Sundays to horse and buggy treks on troubled roads to attend the church of their choice, however restricted the choice may have been. The day-long trips were social as well as spiritual events for the entire family. Everyone was well-groomed and sparkling, even the horse!
Gradually, as the Midwest area built up and moved out this way, so moved churches, and our early settlers reached out to meet them. Then, when enough neighbors became interested and able, they would set about building the church of their choice and find a pastor to lead them. Today, the Bridgeview area has a wide variety of places of worship fulfilling our spiritual needs.
Homes, Builders, and Developers
After the turn of the century, farming in the area began to wane. A few people other than farmers began to purchase lots and build homes on subdivided property. One of the first was the Gustav Johnson family. Johnson was an employee of the Corn Products Company in Waukegan. He transferred here in 1912; built a home and raised chickens, had a cow and an apple orchard. The old home at 7815 W. 72nd Street is no longer standing. Johnson walked to his job at Corn Products from 1912 to 1927, when he bought an automobile.
His daughter, Evelyn Kozal, who lived at 7821 W. 72nd Street in 1972, recalled with our historians the many prairie fires in the 1920's to the early 1940's. About 1943, her husband William took up a collection among a few neighbors to pay for fire protection from the Summit Fire Department. Twenty-five dollars were collected, which was the charge made for a fire call. One of the residents was unable to contribute. Ironically, in 1945 his house caught fire and was a total loss. This was the first home to catch fire since the collection had been taken.
In 1913, the John Kriekel family built a home at 7816 W. 73rd Street. Kriekel was employed at Corn Products Company where he worked 13 hours a day, 7 days a week and was paid at the rate of 22? ? per hour. Sometimes, he had to cut through a barbed wire fence at Roberts Road at what is now 73rd Street to get coal delivered in winter. It was about five years before he could get cinders laid for 73rd Street. Kriekel often cleaned, by hand, the ditch along 73rd Street to Roberts Road to let water run off.
Kriekel was born in Holland in 1881. He was married for 64 years and continued to live in the Nottingham area east of Harlem back in the 1970's. He arrived in Chicago in 1893 when he was eleven, and lived at the 73rd Street address from 1913 to 1939. Kriekel raised chickens (several hundred) in the early 1930's and remembered well the frequent flooding in the area.
In 1920 the Burallis and in 1921 the Hartmans settled and began farming in Bridgeview. Those who followed were families who primarily were employed elsewhere at some trade or occupation. Two of these families, who arrived in 1921 and continued to reside here in 1972 were the Blahas and the Pedersons.
As reported by our historians in 1972, the son of the early Christopher Pederson, Earl and his wife lived at the original Pederson homestead at 7620 W. 72nd Street. He had retired from Corn Products Company and was still active in the Bridgeview Fire Department at that time.
It was also recorded in 1972, of the original John and Marie Blaha family, a son John and his wife resided at 7259 Roberts Road. Another son, Edward, his wife and two sons lived in the original Blaha home at 7229 S. Roberts Road.
Edward recalled that until about 1936 he was able to look south from his home and clearly see trees on the south side of 87th Street. There was nothing in between to block his view. As boys, Edward and John would frequently visit the construction site of the Harlem Avenue bridge in the years 1931 to 1933. They also recalled when a horse drawn road grader followed by a steamroller was used for maintenance of Roberts Road. The brothers were acquainted with the local farmers, and at times worked for several of them during threshing time.
When an electric streetcar company that had operated on Archer Road went out of business, they left many wooden ties in their triangular storage area between Archer and Roberts Road. The Civil Works Administration, a six month long program, was improving the drainage ditches on Roberts Road between Archer and 72nd Street during the winter of 1933-34 and used the abandoned ties for firewood. Ed Blaha recalled that he used to pick up the spikes from the burned ties and sell them to the junk man to get money to see a movie in Summit.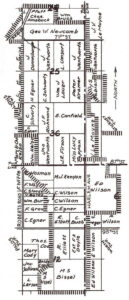 As indicated by the 1886 real estate map (above), speculators at an early date bought practically every available parcel of land in this and the entire surrounding area. In the 1920's, as farming was dwindling, sub-dividers began intensive real estate operations.
In 1924, Frederick H. Bartlett and Company, a Delaware corporation, purchased and sub-divided the sixty acres of land bounded by 71st and 75th Streets, and Oketo and Ferdinand Avenues. It was named Frederick H. Bartlett's 71st Street Subdivision.
The 1929 stock market crash and following great depression brought to a halt nearly all real estate transactions.
From 1922 – 1934, few individuals purchased land in the pre-Bridgeview area, where there was considerable open farmland and prairie. In 1935, Emil and Alice Haerr, with their four children, began construction of a home on Beloit Avenue near 71st Street which they had purchased in 1934 from Daniel Kandich of the Bartlett Real Estate Company.
Beloit Avenue, made of cinders, was the first street to penetrate the area between 71st and 79th Streets, Harlem Avenue and the railroad tracks. It dead-ended at what later became 75th Street.

The first structure built by the Haerrs, which was to be their garage, served as sleeping quarters while the home was being built. Meals were prepared in a chicken coop. Haerr obtained lumber for building the home from old railroad boxcars at the Clearing yards.
There were no utilities for a time, but at least their eggs and milk were always fresh because it came from their own chickens and cow. During the depression years of the early 30's, residents began raising chickens to sell eggs. After that, the price of feed rose because of bad crops in 1933 and 1934 caused by drought and chinch-bugs. Raising chickens was then no longer considered worthwhile.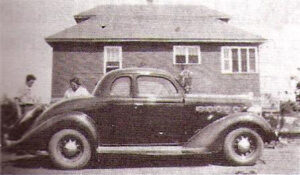 The original Haerr home, which contained early community records, burned in 1946. Alice Haerr recalled that the heat of the fire had melted the iron of her Singer sewing machine. A nearby resident, Richard Lutticke, drew the plans for the second Haerr home, which Emil Haerr also built. Alice remembered her husband walking to the railroad tracks to check from there if the house and roof were level.
It was in the fall of the same year the Haerrs built their first home that August Pape paused on 71st Street at the east side of Harlem Avenue while driving through the area. He recalled that as he gazed southwest between 71st Street and Harlem Avenue he saw a field of high grass, corn stalks, and but one or two houses. In the distance he saw the Belke home on 79th Street, just west of Harlem and the Old Frontier Tavern. The Old Frontier Tavern was built by the Braasch family in 1933 on the northwest corner of 79th Street and Harlem Avenue. Looking south on the east side of Harlem, his eyes met a long row of cottonwood trees, which followed an unused railroad track. Many of these trees can still be seen as one passes along Harlem Avenue between 71st and 79th Streets. Pape also recalled seeing the airplane hangers at the Harlem Airport over two miles away on the east side of Harlem, south of 87th Street. Four years later August Pape and his wife moved into a home he built just a few blocks from where he stood.
The Haerr home, built in 1935, stood by itself until the next year when Fred and Theresa Wallin constructed a home at 7300 S. Thomas Avenue. They moved into their home in July 1936 before it was completed. Wallin, who was employed in Chicago, raised chickens and had goats and a cow.
After Thomas Avenue was put in, Wallin dug a ditch from 71st to 73rd Streets in order to relieve the flooding after heavy rains. For the first several years the roads were graded using horse teams. Wallin at one time owned the entire property on the west side of Thomas Avenue, where they still resided in 1972.
In December 1936, the Bartlett Real Estate Company purchased the 80 acres between 71st and 75th Streets, Harlem and Oketo Avenues. The only previous buildings known to have been in this area were on a farm at 71st Street and Harlem. Julius Kluck, brother of August Kluck (farmer at 79th Street and 78th Avenue) farmed there at one time. The farm had two succeeding tenants and burned down in 1930.
In 1937, Bartlett subdivided the land into 88 lots, each one averaging eight-tenths of an acre. The area was called the Harlem Avenue and 71st Street Farms. By the end of that housing boom year, approximately two dozen homes stood where plowed cornfields and prairie grass had reigned supreme. The nucleus of the community had been formed.