The Chicago Red Stars and Angel City FC battled it out at the "World Cup Welcome Back" match at SeatGeek Stadium this past Sunday, filling the Stadium with nearly 9,000 excited fans, the second highest attendance for a regular season match in Red Stars History. Between the entertaining game featuring returning talents from the Women's World Cup and the amazing activations put on by the Red Stars and their sponsors, there was no shortage of soccer content to enjoy at SeatGeek Stadium–a preview of the Red Stars Bridgeview Night on October 15th!
The first 3,000 fans that arrived eagerly received Red Stars slides presented by Sloan, kicking the evening off to a great start. Every attendee also had the opportunity to experience a part of U.S. soccer history by taking photos with the legendary 1999 Women's World Cup trophy, with many soccer enthusiasts rocking their pre-game gifts from the Red Stars in the pictures. Everyone then headed into the Stadium for the 5pm kickoff in high spirits.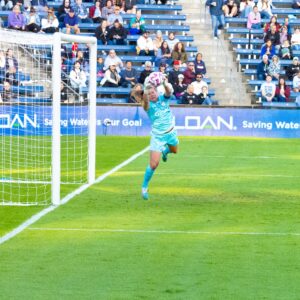 From the moment the ball started moving, the energy in the stadium was alive. Angel City took the lead in the first half of the match. In the 39th minute after Red Stars goalie Alyssa Naeher, back from USA World Cup Women's team, blocked a header, Angel City swiftly kicked the rebound into the back of the net.
In the 2nd half the game intensified as the Red Stars' Ava Cook snatched a loose ball in minute 68, driving up the center before sending the ball bouncing into the lower right pocket. It was the Red Stars' turn to celebrate, and the crowd roared along in excitement as they waved Chicago flags. Within minutes Angel City struck back as Jun Endo managed to shoot a cross pass into the center of the net. A few moments after that Cheyna Matthews with a pass from teammate Tierna Davidson kicked a clean shot perfectly into the left corner of the net. The night ended with a 2-2 score with back to back goals that kept the fans on the edge of their seats for the rest of the game. The intense match finished in a draw!
Don't forget, the Chicago Red Stars face OL Reign for their final game of the season on October 15th and have offered FREE tickets to Bridgeview residents! To enjoy exciting soccer at our beautiful stadium request your free tickets by calling the Village of Bridgeview Customer Service Office at 708.594.2525 (ext. 3) or filling out the form at this link – Bridgeview Night