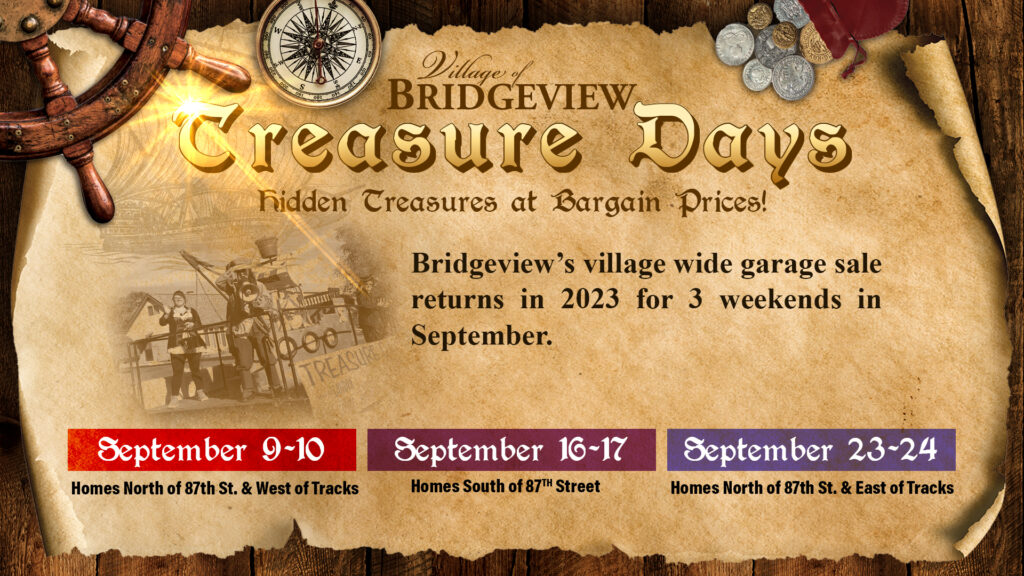 Bridgeview Treasure Days, Bridgeview's Village-wide garage sale, is sailing in for the last 3 weekends of September! This three-weekend event is all about finding hidden gems at bargain prices or selling your own treasures to eager adventurers. If you would like to cash-in on the opportunity to sell during the Treasure Days, please print and fill out this form before bringing it to the Customer Service Window at Village Hall to be added to the list of participating homes. Participating homes will receive a pink mailbox cover to let others know they are selling. Treasure Day signup forms are also available for pickup at the Village Hall, so be sure to pick one up now if you need one. Signup is FREE!
Treasure Day Schedule:
Homes North of 87th St. & West of the tracks participate on September 9th and 10th.
Homes South of 87th Street participate on September 16th and 17th.
Homes North of 87th St. & East of the tracks participate on September 23rd and 24th.
If you have any questions, please call the Bridgeview Customer Service Office at (708) 594-2525 Ext. 3.