Summer Interns — Download Application
The Village of Bridgeview is participating in the 2022 Lyons Township Summer Intern Program. This program is designed to give young people an opportunity for summer employment in participating municipalities within Lyons Township.
The program will run from May 31st, 2022, through September 3rd, 2022.
Requirements for the program include:
• Must be a resident of Lyons Township
• Must be between the ages of 16 & 24
• Must be a student currently enrolled in school.
• Must be able to work 30 hours a week.
• Must have a valid State ID or drivers license.
Lyons Township will assist students looking for work in securing internships at participating Lyons Township agencies, villages, park districts, or other organizations.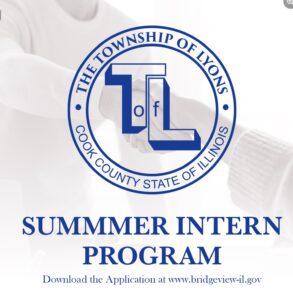 Students will be compensated $13.05 an hour, will have a ½ hour paid lunch and be assigned jobs according to the place of employment.
Students interested in applying for the internship program can download an application BY CLICKING THIS LINK, or pick one up at the Lyons Township Supervisor's Office. Completed applications should be returned to the Lyons Township Supervisor's Office or emailed to the program coordinator Mary VanAllen at [email protected]
For additional questions please contact Mary VanAllen at 708.482.8300 ext. 232